Recently a LinkedIn friend asked me: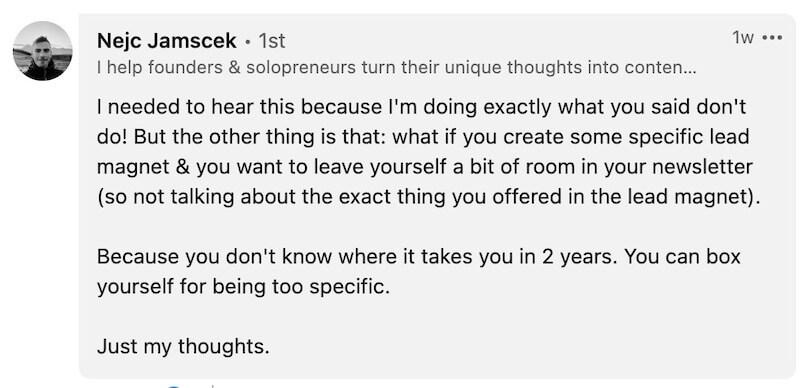 Basically this is what he asked: "If my lead magnet's about a specific topic, do I have to stick talking about just that?"
Short answer? Nahhhhhh not at all.
We can chat about all sorts of things… as long as they're kickin' in the same ballpark as our lead magnet.
Lemme use my own lead magnets as examples…
🟡 Lead magnet numero uno I got is a case study. Shows how I helped a coach raked in $26k in just 6 days using da power of emails.
People who snap this up? They wanna see their own moolah roll in from their email efforts.
.
🟡 Another lead magnet of mine?
A guide on how to dodge Gmail's Promo Tab. Folks who're keen on this 1 are serious in making email marketing work for 'em.
.
🟡 And let's not forget 'bout my 7-day email mistakes challenge, showing coaches common email faux pas & how to avoid 'em like a pro.
.
So what's the link between all 3?
No matter how these peeps ended up on my list, they've got 1 thing in common — they wanna level up their email game to see their sales roar.
And my email list is all about that.
I'm not gonna pigeonhole myself into thinking, "Ah this dude(tte) signed up coz he wanted to get outta Promo Tab, so I can only send him(her) stuff 'bout that."
That kinda thinking's as shallow as a kiddie pool.
There're a lot of topics I can & do yak on about.
Building an email list, how to craft fluid emails that flow like water, email deliverability, email storytelling, how to decide on email frequency, subject lines, what topics to email about, etc.
The key is — every email we fire off, every lead magnet we put out there to hook folks in — it's gotta align with our brand, product, service & gently steer 'em in towards our offers.
Coz let's face it…
We're all here to get our hands on some of that sweet dough right? We ain't a charity org.
That said, there're many types of lead magnets we can whip up.
Just 1 thing — whatever lead magnet type we choose… please do NOT use "subskribe to my newsletta" coz that lame phrase sucks big time.
Here're a few lead magnet ideas (+ a bonus tactic)
.
So, if ya don't have a lead magnet yet… choose from 1 of the 5 options above, & just freakin' create your lead magnet.
No need to over analyze. Seriously.
But what if you already have a lead magnet that's working?
Good for ya! Then keep driving traffic to it so you get more subscribers.
Getting more subscribers is 1 thing.
But do you know how to get their undivided attention with your emails & monetize them to the max…
Without being sleazy or pushy like a car salesman?
So that you bag more of the green stuff?
Contact me at [welly @birdsend.co] & maybe — just maybe — I can lend a hand?
Email is addictively fun,
Welly "def a hater of subskribe to ma newsletta ✌️" Mulia