I currently have ~3.5k "active" subscribers.
And I get around 210-300 organic new ones monthly (no ads).
"Active" = those who engaged w/ with my emails in the last 90 days
If no one engages in 90 days, I kick them off
Here's a breakdown of where + how I got these subscribers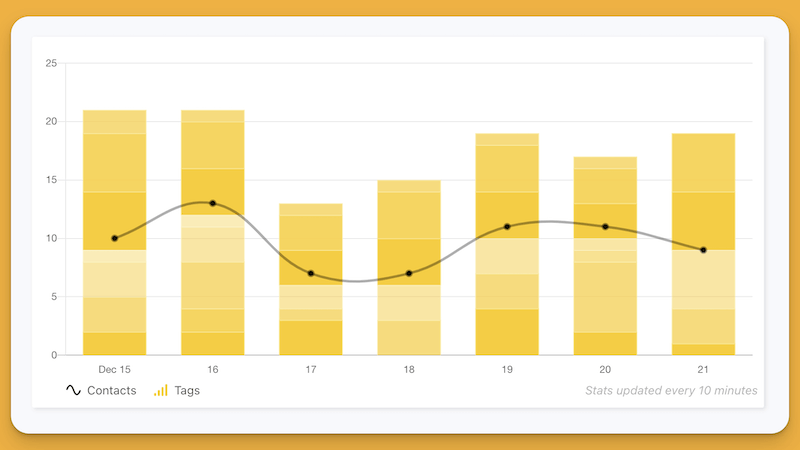 "Only 300 new subs/mo?"
That's WHY I'm growing it 😎
They come from:
BirdSend free trials
BirdSend abandoned cart
Lead magnet free subscribers
"Eh, no newsletter?"
Right. Because I don't believe in "newsletters"
(more below..)
But first, let's go over them one-by-one
🟡 BirdSend free trials
These are folks who signed up for for a free BirdSend trial
BirdSend is the email marketing tool I run for coaches & course creators
It currently sends ~30 million emails/month across various niches.
(check my bio if you wanna give it a free spin)
.
🟡 BirdSend abandoned cart
These folks almost signed up for a free trial but didn't.
Because we ask for a credit card even for free trials.
Why?
Because we don't want spammers abusing our email marketing tool.
(spammers are more reluctant to provide their credit cards)
.
🟡 Lead magnet free subscribers
Lead magnet is a specific valuable resource you give away in exchange for an email address.
I have 2 lead magnets:
A/ Email Mistakes Challenge
This is a 7-day challenge to discover & fix the most common 7 email mistakes.
So that folks stop their profit holes from leaking.
How do I know these are the most common mistakes?
After interacting with multiple hundreds of folks:
Here's the challenge in case you wanna check it out
B/ Get outta Gmail's Promo Tab case study
In this case study, I show the 6 steps I did to increase my & my clients' email opens by 21% – 76%…
By getting their emails outta Promo Tab & into the Primary Tab.
Here's the case study if you wanna see it
Here's why I don't have (& don't believe) in newsletters + why it's my biggest pet peeve.
A newsletter is boring & vague.
There's no clear value proposition of what folks are getting…
Other than the promise of a "future newsletter".
If you're not (yet) famous in your niche, few want to subscribe to your newsletter.
A better way that'll lead to more subscribers is via a lead magnet.
As I've shown in my 2 examples above.
Which one is more enticing?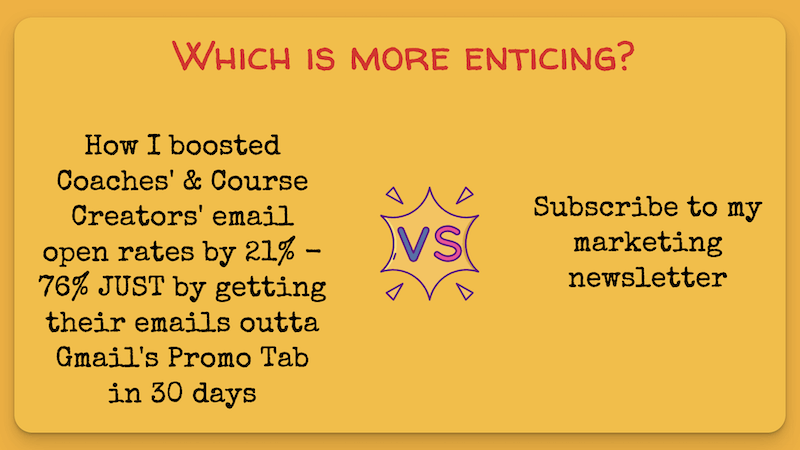 If you insist on using "newsletter", flip the offer:
How I boosted clients' email opens by 21-76%. As a bonus, you'll get my newsletter.
.
🟡 To get subscribers, I first need to get traffic/eyeballs to my lead magnets
I use 2 traffic sources:
A/ Twitter
From my tweets, threads, bio -> I link over to a Lead Capture Page (LCP)
Here, visitors can only opt-in or leave.
There's no option to browse blog posts or anything like that.
My LCP converts at 29% – 39%
An opt-in form on a blog post is lucky to convert at 2%.
B/ WOM/Referrals
These are:
BirdSend users referring others
Folks who heard good things about BirdSend (not yet users) referring others in FB groups, online & offline events
Affiliates: Happy BirdSend users who earn commissions referring the tool to their audience
I discovered how to get emails outta Gmail's Promo Tab…
After sending more than 1.4 billion emails via my email marketing tool, BirdSend.
Here's a case study on how I got my & my clients' emails outta Promo Tab & boosted open rates by 21% – 76%